Bending Aluminum Parts
Bending Aluminum Parts involves the shaping of metals to a predetermined shape through the application of great force. A press brake tool is used when Bending Aluminum Parts at an angle to form the desired shape.
What is Press Brake Forming?
Press brake forming is the process in which sheet metal is bent and formed into new shapes using one or more bends at particular angles. In order to attain these angles, the metal sheet is pressed down by the upper die and into the lower die. Each die is shaped so that as the die meet, the metal is formed into the desired shape. As the die get closer together, the metal sheet between them begins to form into a "V" shape. This process can be repeated at different angles and in different areas of the same sheet of metal in order to form more complex bends and shapes. With press brake forming, Bending Aluminum Parts is a precise, quick, and affordable process.
The upper and lower dies are fixed on the upper and lower surfaces of the press brake machine respectively. The movement of the surfaces toward one another is driven by hydraulic transmission. This hydraulic pressure combined with the shape of the upper and lower dies bends the metal to the chosen form.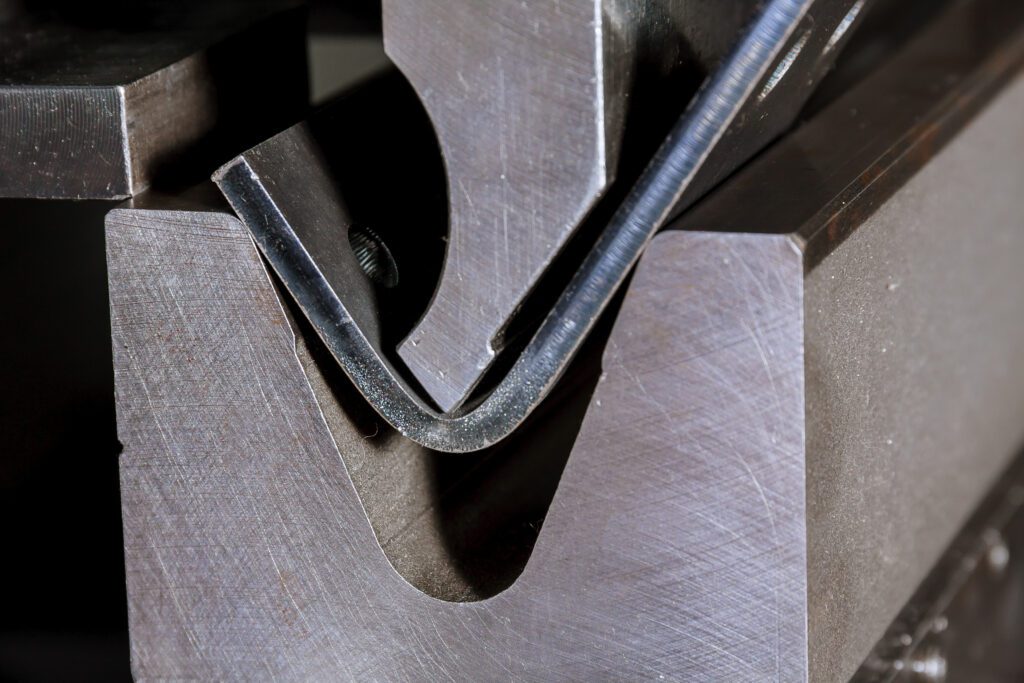 Flexibility
Since Bending Aluminum Parts is a flexible process, we are able to shape your parts in to many different shapes and angles. At Laser Engraving Pros, we specialize in the shaping of aluminum, carbon steel, and stainless steel, but this process can be applied to many different metals. We are able to bend your parts into any shape you put your mind to. Creativity and Originality drive us when it comes to Bending Aluminum Parts, and no order is too big or too small! Press brake forming is an extremely versatile process, meaning your only limit is your imagination. Who the hell said stainless steel is too hard to bend?! On the contrary, when compared to other methods, press brake forming metal is one of the most precise, efficient, and unproblematic processes.
Accuracy
Precision is another advantage to Bending Aluminum Parts with press brake forming. However, despite being a standard method, metal is a material which needs extra consideration. At Laser Engraving Pros, we pay close attention that each piece of metal is bent accurately and we hold ourselves to a high standard of quality. In comparison to other types of bending, hydraulic press brake forming metal parts can bring a person or company the most incredible designs and shapes for metal parts. Indeed, when the job comes to Bending Aluminum Parts, we can give you the impeccable, quality-enhanced bend or shapes that you're looking for. To us, hydraulic metal forming isn't any more difficult than tying our shoes. We've been doing this so long that we could do it in our sleep! Check out our company history here… we've been manufacturing since 1891!
Quality and durability have never been easier to achieve with Laser Cutting Pros! We can really bend metal like pros…. because we are pros! Hydraulic press forming gives you the exact shape you're seeking and the best quality finished product you require. Are you dazzled yet? With our top-notch team of professionals, we will eagerly bend metal for you in any form. If you have a project, simply fill out an RFQ form or pick up the phone to give us a ring! If you need your parts laser engraved – we can certainly help with that as well! Click here!
Bending Aluminum Parts
Got a Project? Fill Out This Quick RFQ Form – OR – Email Us Directly!
Call Us: 800-482-1553